Researchers return to work on campus
As the rest of Wayne State University prepares for the fall semester, some researchers are already back to work on campus. As Michigan's stay-at-home restrictions began to lift, a Research Subcommittee led by Steve Lanier, Ph.D., vice president for research, convened and developed strict public-health guidelines designed to prevent the spread of coronavirus (COVID-19):
Masks must be worn indoors at all times.
Doors and elevator buttons are wrapped in nanoseptic tape, turning high-touch surfaces into self-cleaning touchpoints.
Single-use bathrooms and elevators, one-way stairwells, and staggered work schedules make it easy to maintain that mandatory 6-foot distance.
Each shift begins with a heavy dose of sanitizing, washing and sterilizing everything the researcher plans to touch, and ends with cleaning everything they have touched.
Then, it was up to departments and principal investigators to draw up their own set of rules to be approved by the research restart committee.
"I wrote a research restart plan specific for my laboratory," said Lori Pile, Ph.D., associate professor in biological sciences. "I had to provide information such as how lab members would maintain social distancing and our daily cleaning and disinfectant protocols."
---
Read: Wayne State researchers help implement, measure the impact of virtual communication for people living with serious mental illness
---

Similar, but different
The first labs reopened the week of June 8, a week after Gov. Gretchen Whitmer's executive order on June 1, which allowed some businesses to resume but stated that work that is able to be done remotely must continue to do so. Lab work is an example of work that must be done on-site. All researchers who returned to campus underwent Be Warrior Safe training prior to their return and are required to complete a daily screener before visiting the lab. In addition, a care package containing two reusable masks, hand sanitizer, and a handful of gloves was given out to any student who wanted one to aid in compliance with the new guidelines.
Pile said that with only two graduate students in her lab, which studies chromatin structure and gene expression, there was no need to develop a staggered work schedule. "We make sure to space out across the lab to keep distance between each other, but it's still great to see each other in person!"
And yet, no matter the lab conditions, all students are asked to be very intentional with their time. "We have been instructed to be in the building only as necessary. So our plan is that when we are in meetings over zoom or performing data analysis, this will be done remotely."
Communal spaces, such as luchrooms and conference rooms are off limits until further notice.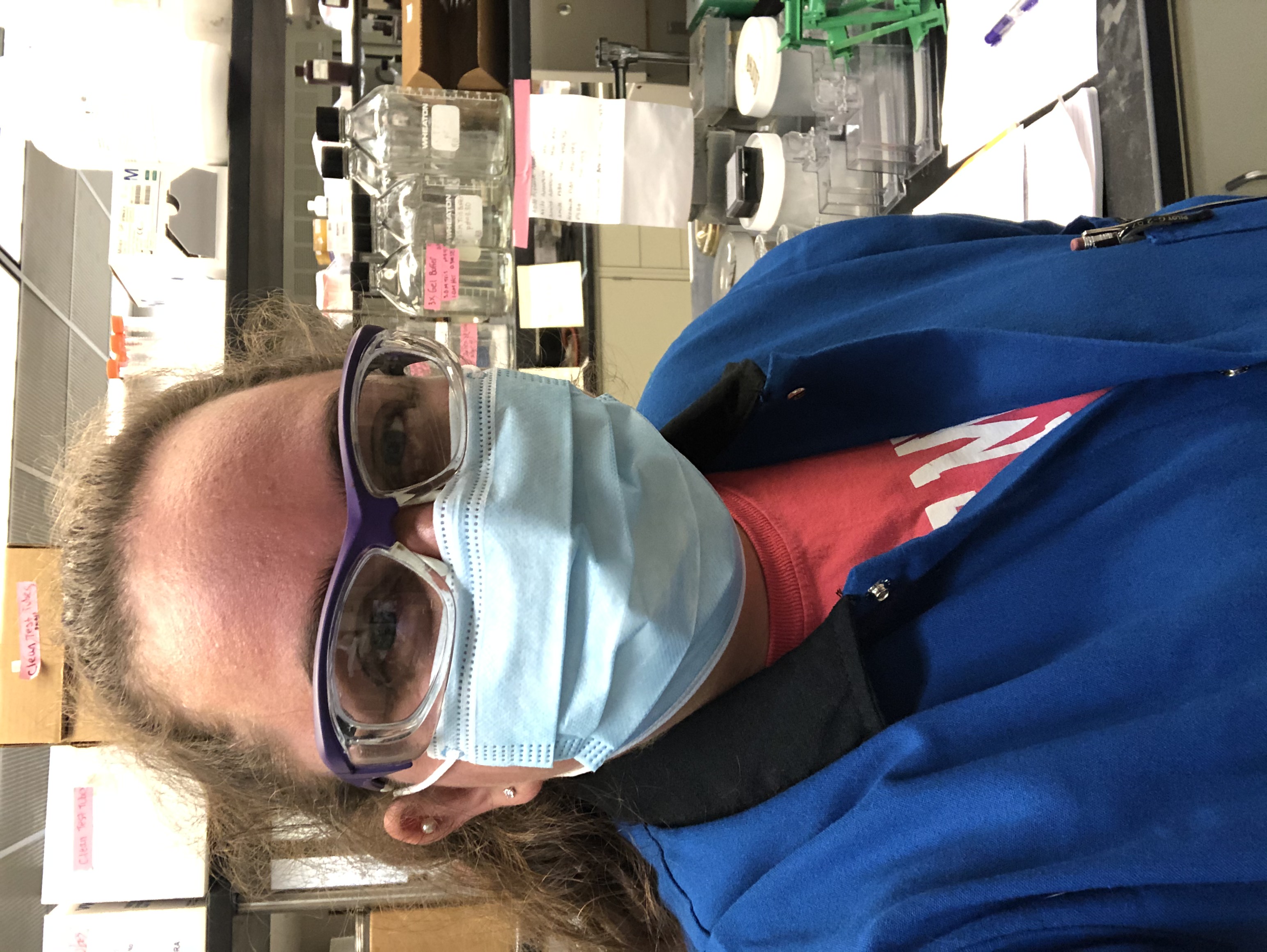 For Rachel Beltman, a Ph.D. candidate in chemistry and member of the Mary K. Pflum, Ph.D., Lab, which researches the molecular basis of disease, being intentional with her time means starting each day at her desk at home where she analyzes the previous day's data, plans new experiments, and completes the daily screener required of all Warriors who plan to visit to campus. The Pflum Lab has more than a dozen researchers, requiring students to split off between morning and afternoon shifts to maintain social distancing guidelines. Beltman works in the afternoon, so after lunch, she heads off to the lab, where she will have exactly 6 hours to conduct research and any disinfectant protocols that work demands.
"It is definitely harder to get certain experiments done with the time restrictions," Beltman said, "and also with there being limited lab members, and we aren't allowed to be within 6 feet of each other; it is really hard to get advice or learn new techniques." Used to shifts that last between 8 and ten hours, she said she and her lab mates have had to get creative in how they help each other learn.
Like Beltman, Sean Johnson, a Ph.D. candidate in pharmacology and member of the Sokol Todi, Ph.D., Lab, which uses flies to study ataxia and other degenerative diseases, is glad to be back at the lab after such a long stint away but characterizes his return as "a bit strange."
"I'm very excited to be generating data and progressing my projects again but there are certainly some challenges," Johnson said. "Working with limited hours has made efficiency incredibly important, which isn't always easy when you're also trying to get back into the rhythm of conducting lab work and experiments." He said getting used to the changes will simply take time.
The Todi Lab has 7 members and shares space with other labs, so Johnson, too, is subject to a staggered work schedule. He has 4 hours each day to disinfect his station and conduct experiments.
"I'm almost always doing some kind of biochemistry, so I typically start that first because it requires the most wait time and I am able to perform fly work in between," he said. "The rest of the day so far has been alternating between a western blot and fly work until about 2 p.m. when my shift ends, followed by reading papers and working on manuscripts from home."
In spite of the new challenges, neither Beltman nor Johnson foresees the changes putting a significant delay on their research. It's simply a matter of being more intentional with their time, quality communication among lab members, and getting used to the new routine. Both expressed feeling grateful that they get to return to work at a time that is uncertain for so many, even if the new environment is a bit odd and protocols a little tedious.
"Overall, it's pretty quiet in the building," Pile said. "We miss the hallway conversations with our friends and colleagues, but know that we'll be able to return to those casual meetings in the future. WSU is doing the right thing to be cautious with the research restart. COVID-19 is still with us. We understand the importance of taking precautions to prevent the spread of this dangerous virus."
Learn more about the Graduate School's accomodations in response to the coronavirus or explore the university's Ph.D. programs.
By Kristy Case, web editor/writer, Wayne State University Graduate School
Last updated July 1, 2020: This article orginally featured a photo of the Todi Lab at a picnic, taken in 2019, prior to the pandemic and social distancing guidelines being put into place. The photo has been removed to avoid confusion.