Sport science student helps athletes get the most out of their workouts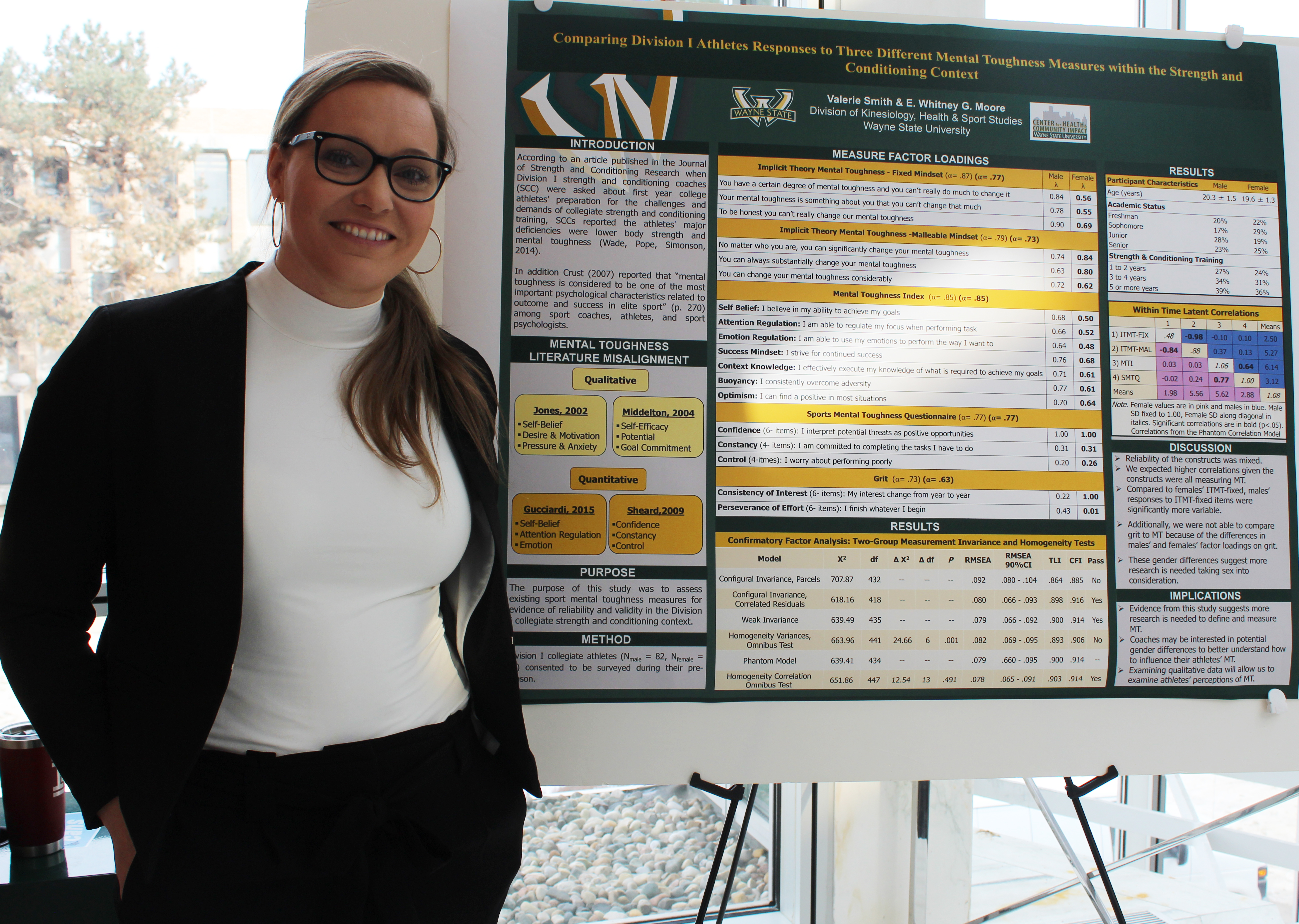 No matter your exercise routine, there's a right way to workout.
Valerie Smith, a certified strength and conditioning coach through the National Strength and Conditioning Association and a Ph.D. student in the exercise and sport science program, works to help athletes find that sweet spot between underworking and overworking their bodies, and she's got the data-driven research to back up her methods.
Under the guidance of Tamara Hew-Butler, associate professor of exercise physiology, Smith leads the Warrior Athlete PROTECT project, a study designed to examine the daily training load and recovery of athletes.
"In order for athletes to have peak performance, there must be a stimulus followed by adequate recovery," she said. "At any time, if there is a disturbance in this balance, it could lead to unwanted fatigue, injury or, in some cases, overtraining."
For the pilot study, Smith monitored Wayne State University football players' internal physiological load using FirstbeatTM heart rate monitors over the course of a season.
"We asked both athletes and coaches to rate how hard they thought each practice was for each athlete," Smith said. "We found that both athlete and coach were not the best at assessing internal load."
Such mistakes can impact an athlete's rate of injury and recovery.
An athlete herself, Smith's research hits close to home. She has played sports since she was in fourth grade, considers herself lucky to have gotten the chance to play college volleyball and even competed for Team USA's bobsledding program.
"These experiences shaped who I am today, and I want to help impact and give back to athletics for all it has done for me."
She aspires to be a leader in the sport performance world and hopes her research will impact how athletes play sports and how coaches prioritize their health.
Smith also performs a variety of other fitness related research in the Warrior Performance Exercise Physiology Lab, such as a screening project called 10,000 Warrior Project, which assesses the mental and physical health of Warriors and Detroiters. Last year, she even assisted Hew-Butler with a "sweat test" for President M. Roy Wilson prior to the WSU Road Warrior cycling tour.