Crisis communication course studies developing pandemic response
Last year, when Julie Novak, Ph.D., associate professor of communication at Wayne State University, prepared the syllabus for her winter 2020 online crisis communication course on emergencies with public health implications, she couldn't know her students would get a crash course in the subject matter in such a big way. At the start of the semester, the coronavirus pandemic (COVID-19) was already looming, and it quickly became the crisis of focus.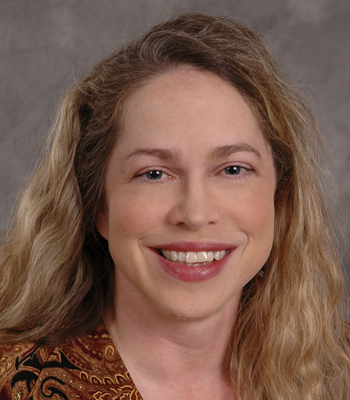 The students read the CDC's Crisis and Emergency Risk Communication (CERC) manual, which offers studies in crisis management and lessons learned from past emergency responses, applied it to the current pandemic, dissected the media and analyzed their own lived experiences of COVID-19.
The latter took precedence over spring break, when all in-person operations were suspended on campus. The course was online from the onset, but the students still experienced major lifestyle changes due to the stay-at-home order.
"I immediately checked on the students to see how they were doing," Novak said. "I asked about their stress levels and changes in their day-to-day challenges. I asked students to make suggestions about modifications they might need or want in course expectations."
Novak used the students' input to formulate two modified curriculums for the remainder of the course--one that would focus on crisis events unrelated to the pandemic, such as the Ebola crisis, SARS, and natural disasters, the other on COVID-19--and let each student choose.
Many chose to continue studying the response surrounding the outbreak.

A unique opportunity
"I hate to say it, but the timing of the pandemic was impeccable," said Priya Spencer, a graduate certificate student in health communication who took the course.
She said that while the uncertainty of it all was overwhelming at times, she was grateful for the added lens the course provided.
Fellow classmate and doctoral student in communication, Erin Perry, agrees and considers the experiential learning a personal positive. "That would feel odd to say had the class not led us to consider positives that have come from this pandemic," Perry said. "I consider some of those positives to be people supporting others, healthier habits, more family time in some cases as a result of the quarantine and increased respect for the teaching profession."
As a parent taking classes who suddenly had to teach a 5-year-old at home, Perry quickly adopted an impressive balancing act, a routine that so many others find familiar right now.

A blessing and a curse
Luckily, remote learning has never been easier. Those in the course watched daily press briefings, read articles from traditional news outlets, and faced a barrage of information and opinions on social media all from home, much like everyone else. Unlike everyone else, they had to critique it.
"Unfortunately, we were able to see and critique poor communication responses alongside good ones," said Stephanie Osborn, a master's student in public health and urban planning. "Watching the crisis unfold...heightened my awareness of the need for skilled communicators to assist in managing a crisis."
Being the voice of reason during a pandemic is a difficult job, especially when politics play a big role in skewing public perception. Still, as Spencer pointed out, there's light in the dark.
"I read somewhere that our view of the world is shaped by what we decide to hear. I am mindful of what I listen to rather than being consumed by negative news stories. In times like this, one must remain hopeful and take comfort in knowing that while we may endure uncertainties and hardships, we will see better days."
Novak hadn't planned for the course to coincide with a developing crisis, but it certainly helped students grapple with their own lived experiences and get an up close and personal look at crisis communication. They applied research-based knowledge and theories to the outbreak, critiqued practitioner messages, and developed and evaluated their own COVID-19 case studies.
Fortunately, a pandemic isn't the only time when robust crisis management skills will come in handy. As Spencer put it, there will be an after.