Biological sciences student earns prestigious award at annual AGE meeting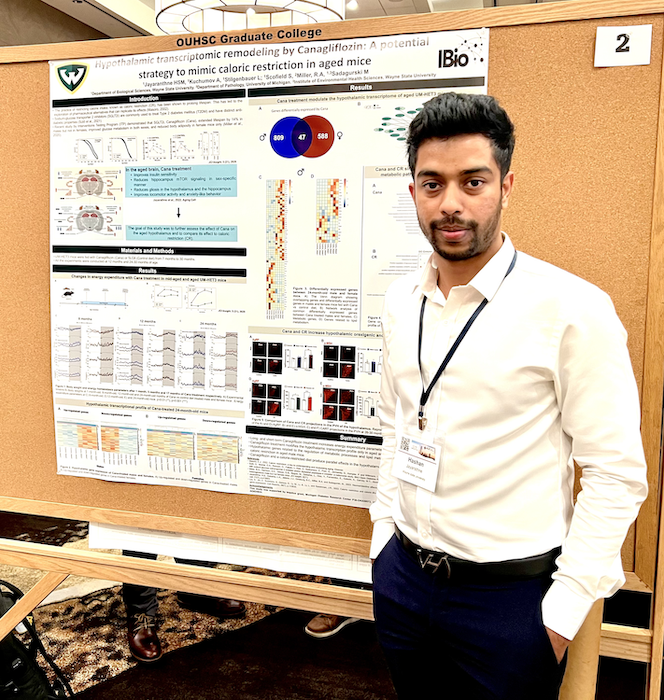 Hashan Sri Madhubhashana Jayarathne, a Ph.D. student in the Department of Biological Sciences at Wayne State University, received one of the prestigious best poster awards at the American Aging Association (AGE) 51st Annual Meeting, held from June 8-11, 2023, in Oklahoma City, OK.
"All the leading scientists from the field were there presenting their research. It felt fantastic to be there representing Wayne State University and then to hear my name announced," he said.
His research explores the potential of Canagliflozin as a promoter of longevity in aged mice. As a treatment for Type II Diabetes, Canagliflozin enhances glucose elimination through urine, leading to a caloric deficit that resembles the effects of caloric restriction (CR). Considering that CR has been proven to extend lifespan, Jayarathne explained that exploring pharmacological alternatives like Canagliflozin, an FDA-approved drug that can mimic some of the beneficial effects of CR, is essential in the search for novel longevity-promoting interventions.
The Marianna Sadagurski, Ph.D., lab of which Jayarathne is a member collaborated with the NIA-funded Interventions Testing Program (ITP) to study the effects of Canagliflozin on lifespan extension in mice. The findings, published in the Journal of Clinical Investigation Insight, revealed a significant 14% increase in median lifespan exclusively in male mice, with improvements in glucose metabolism in both aged male and female mice.
Jayarathne wondered if he could take the study further.
Our lab is primarily dedicated to studying the hypothalamic regulation of metabolism," he said, "and our recent focus has been on exploring the impact of Canagliflozin on the aging brain, specifically its effects on the hypothalamus. As the master regulator of peripheral metabolism, the hypothalamus plays a crucial role, and we were particularly interested in understanding Canagliflozin's potential neuroprotective effects during the aging process."
His research revealed that Canagliflozin significantly improved brain insulin sensitivity in the hypothalamus and hippocampus, regions critical for metabolism and cognitive function, with particularly notable effects in male mice. These improvements played a crucial role in delaying age-associated brain immune response and inflammation, representing a significant advancement toward better understanding Canagliflozin's potential neuroprotective benefits.
Jayarathne's ongoing research delves deeper into Canagliflozin as a potential strategy to mitigate brain aging and improve age-associated brain pathologies. He hopes to uncover the molecular mechanisms responsible for the sexual dimorphism observed in treatment.
Sadagurski's lab is a part of the Institute of Environmental Health Sciences (IEHS), and Jayarathne's additional studies focus on characterizing the impact of environmental pollutants on brain aging as well as exploring the potential for Canagliflozin drug repurposing.
Environmental pollution plays a significant role in the aging process and the development of metabolic diseases, he said."While we cannot completely avoid exposure to environmental pollutants, we can explore pharmaceutical solutions to counteract some of the negative side effects caused by pollution, such as neuroinflammation.
His research has been published in Aging Cell, Aging and GeroScience. He is currently writing a new manuscript that will expand on Canagliflozin's effect on the brain.
Jayarathne recently received recognition from the Department of Biological Sciences for demonstrating exemplary research. He won the 2023 Travel Award for the Midwest Aging Consortium that took place in April and begins his Thomas C. Rumble Fellowship this August.