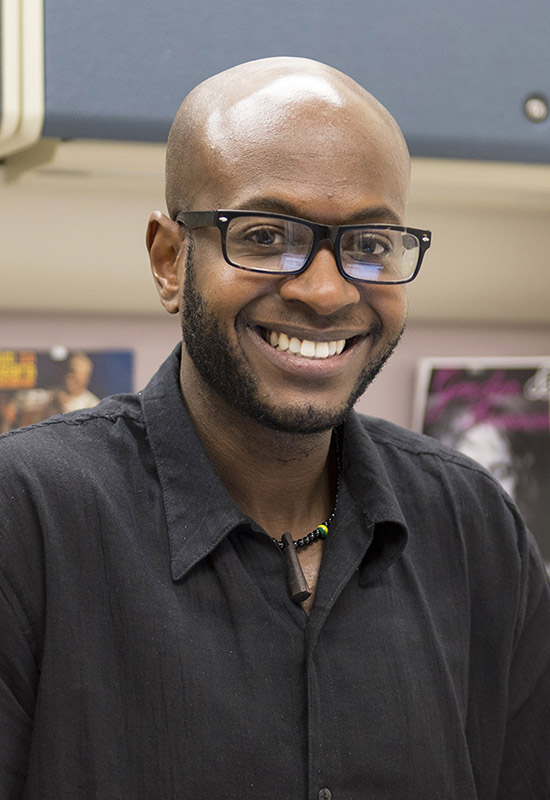 Joseph Lewis
Ph.D. candidate in English, KCP Fellow
Joseph Lewis is a 2015 recipient of the King-Chavez-Parks (KCP) Fellowship. He is a Ph.D. candidate in English with an emphasis in Rhetoric and Composition Studies.
What do you enjoy most about Wayne State's Detroit location
Currently, I live and teach in Saginaw, Michigan, but I have strong ties to Detroit. I think Detroit is a vibrant and emerging city. So much has changed in the city since I lived here back in 2006, and it is exciting to see the changes continue to take place every time I travel down to the city for school. I am particularly fond of Detroit's cultural diversity, historic architecture, along with a thriving artistic and music scene.
What has been the most meaningful experience or area of growth for you as a graduate student?
I continue to push my intellectual limits while strengthening my capacity to learn and my desire to educate. Most importantly, I have become aware of and empowered by the recognition of my limitations, which has helped development my personal growth and my professional growth as a scholar.
What's been your most interesting insight, significant accomplishment or research breakthrough?
I am interested in what student protests can tell rhetorical scholars about the limits of current theoretical and methodological practices in the field. My most significant accomplishment in the program was successfully completing the qualifying exam and attending the School of Criticism and Theory at Cornell University. The qualifying exam was perhaps one of the most challenging and generative academic experiences. This experience was crucial as it helped me develop my identity as a rhetorical scholar and my contribution to the field. In terms of the School of Criticism and Theory at Cornell, I was honored and humbled to attend this prestigious program and represent Wayne State. For me, this experience was a major achievement in my academic program as it helped me develop the research topic for my dissertation.
What motivated you to pursue this field of study?
My desire to probe at the complexities of language and power continues to motivate my scholarship and my teaching. I want to use my learning to harness an appreciation for language and writing for my students, to help them draw connections to their personal experiences, and inspire them to become more active and productive citizens in the world.
How do you envision your career after your degree?
I want to participate in the intellectual heritage of rhetorical and compositional studies and make significant contributions to the field. At the same time, I want to continue to find ways to harness supportive, productive, and educationally stimulating environments for my students to prepare them with the intellectual tools to become critical consumers and engaged citizens.
How has the KCP fellowship impacted your scholarship at WSU and your experience as a graduate student?
The KCP Fellowship has made an immense impact on my scholarship and professional development. The support of this fellowship helps me complete my research goals, and the professional development opportunities have contributed to my development as a professor.
What advice would you have for current or future PhD students at Wayne State?
It is crucial to take advantage of institutional resources, like the KCP program. Also, engage with mentors and peers. I find that a large part of my development as scholar/educator happens outside of the classroom with comrades. Most importantly, be gentle with yourself, set realistic goals, and focus on your strengths. This experience is a transformative process, so allowing the space to grow and make mistakes along the way is important.
Interview by Christine Nyawaga
Photo credit: Luke Goodrow